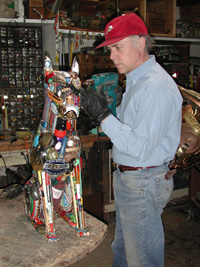 About the Artist
Leo Sewell grew up near a dump. He has played with junk now for fifty years and has developed his own assemblage technique. His works are collected by corporations, museums and individuals throughout the world. Leo continues to cull the refuse of Philadelphia out of which he fashions pieces of all sizes, from a lifesize housecat to a 40 foot installation.
His sculptures are composed of recognizable objects of plastic, metal and wood. These objects are chosen for their color, shape, texture, durability and patina; then they are assembled using nails, bolts, and screws. The outdoor sculptures are constructed of stainless steel, brass, or aluminum found objects which are welded together.
Leo Sewell does work by commission. He can also use objects from the patron's past for a more personal assemblage.